Despite its initial unfavourable reputation, Apple Maps has come a long way to becoming a valuable navigation tool. Today, it offers significant benefits for many businesses.
With real-time traffic updates and detailed directions, Apple Maps provides a reliable way for businesses to ensure their customers have a seamless experience when navigating unfamiliar locations or cities. By leveraging the power of Apple Maps, companies can maximize profits while simultaneously improving customer satisfaction.
Recently, Apple unveiled its new feature: Apple Business Connect. This is a major update to the Apple Maps Connect listing capabilities.
This groundbreaking tool promises to revolutionize the way businesses interact with their customers by providing an easy and efficient way for companies of any size to list their offerings on Apple Maps, including services, products, and events.
Let us take a look at how you can use Apple Business Connect to maximize your company's growth online.
What Is Apple Business Connect?
Apple Business Connect is a free platform that enables businesses to personalize their details as they appear in Apple apps.
According to Apple, "…this gives every business owner the tools they need to connect with customers more directly and take more control over the way billions of people see and engage with their products and services every day."
The platform lets companies create place cards that not only highlight their geographical location but also enable them to interact with customers, such as by sending notifications or invitations.
Businesses can easily adjust the information displayed about them, from hours and contact information to header photos, on Maps, Messages, Wallet, and Siri, among other apps.
Business owners can use an existing or newly created Apple ID to sign up for Business Connect. Once they have logged in and their business is verified, they can claim their place card and customize it without charge.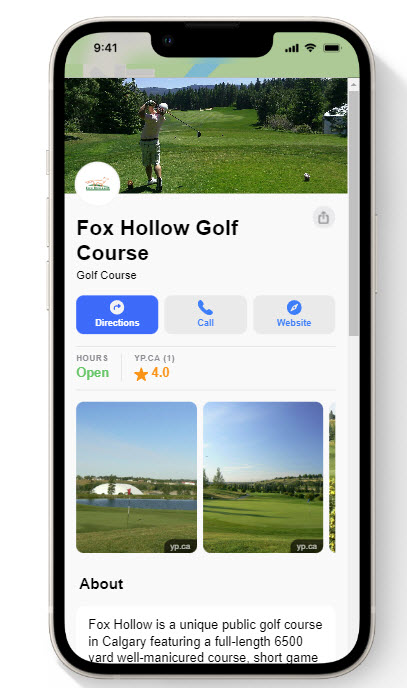 What Are the Features of Apple Business Connect?
Business Connect amplifies your presence not just on Apple Maps but throughout the Apple ecosystem.
Here are some key features that Apple Business Connect has to offer:
Customizable Place Cards
Business Connect now gives companies the ability to manage their information on an interactive place card. This includes changing or adding header photos, logos, and more.
A powerful Hours interface is also available on the card for businesses to add their opening and closing hours, as well as adding holiday and special work hours for customers to easily see and be aware of.
Personalized Action buttons
Customers can easily interact with your business through simple steps with custom Actions. Ask them to order food, make a reservation, arrange an appointment, purchase tickets, and more in just one tap.
To start, make sure your contact options, like a telephone number, email address, or Apple Messages for Business, are displayed, so people have a way of getting help from you.
Display your perks with Showcase
New to the place card is the Showcase feature that assists in displaying special offers and perks to their customers, such as seasonal dishes, product markdowns, and much more.
Using Business Connect, companies can effortlessly adjust the Showcase section of their place card. This feature is currently available for US-based businesses and will be accessible worldwide within the year.
Analyze with Insights
Understand how customers discover and engage with your Place Cards, Showcases, and Actions using Insights from Apple. Make changes to enhance the effects.
Apple Business Connect also provides data within the app, allowing you to gain a better comprehension of your customers so that you can improve what is on offer via the platform.
Maximize Your Business With Apple Maps
Apple Maps can be a powerful tool for businesses, providing an easy and effective way to reach customers. Using the new Business Connect feature, businesses can further maximize their potential on the platform.
Now that you know the ins and outs of Apple Business Connect, let the experts at The Three Marketers help you get the most out of it. As one of Calgary's original digital marketing agencies, we provide services across the country, in the US, and in Europe.
The expertise we offer in managing social media accounts and online marketing for a diverse range of apps and websites is unrivaled. Feel free to reach us by phone at 403-230-3993 or by email at info@the3marketers.com for more information.